Treating Crohn's and Colitis Is Not An Exact Science
Last updated: November 2021
There is no magic pill to treat IBD. There is no 1-size-fits-all diet or cure-all method.
Despite developing research and treatments, many living with Crohn's and ulcerative colitis (UC) are constantly looking for new ways to ease symptoms. Without 1 clear treatment path, it often takes trial and error that some find relief. The path to potential remission can be winding – and just as unique as the person with Crohn's or UC.
To learn more about how people with Crohn's and UC treat their condition, we conducted our 5th Inflammatory Bowel Disease In America Survey. More than 1,300 people with IBD completed the survey and shared their experiences.
Common treatments for Crohn's and UC
Survey results show that commonly used medicines for Crohn's, UC, and other types of IBD include:
Biologics
JAK inhibitors
Immunomodulators
Aminosalicylates (5-ASAs)
Antidiarrheals are also often used, having ever been taken by 72 percent of people with Crohn's and 58 percent of those with UC. Antibiotics are also common, with 76 percent of people with Crohn's and 53 percent of people with UC reporting having ever taken them to treat their IBD.
When it comes to flares, 91 percent said they have treated an IBD flare. Oral corticosteroids (steroids) and NSAIDs (pain medicines) were the most common types of treatment for flares.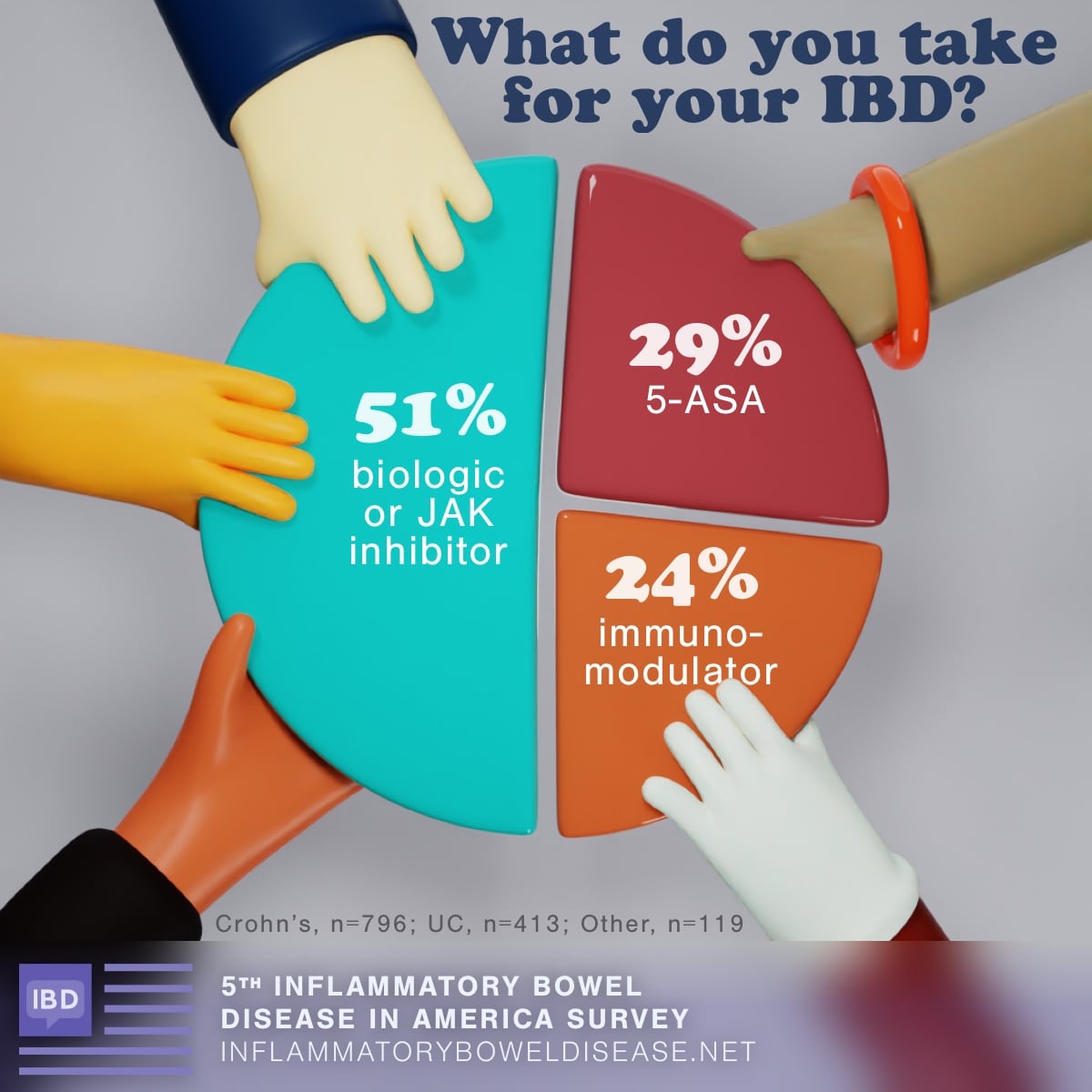 Diet changes as an IBD treatment therapy
Nearly half of respondents said they limit or avoid certain foods as part of their treatment. The range of dietary needs varies greatly from person to person. As 1 person said, "Five people may have the same diagnosis but need different, individualized diet and treatment plans."
So what changes have they made? Eating strategies include avoiding restaurants, modifying portion sizes, and changing the time of day they eat.
And what about diets? People surveyed mentioned a variety of specific diets, including dairy-free, gluten-free, paleo, and vegan, among many others. Other common diet options included:
13 percent are on a low FODMAP diet
12 percent are on a high-fiber diet
29 percent avoid stimulants
17 percent keep a food diary
So what is the best dietary treatment for Crohn's and UC? The answer is as individual as each person.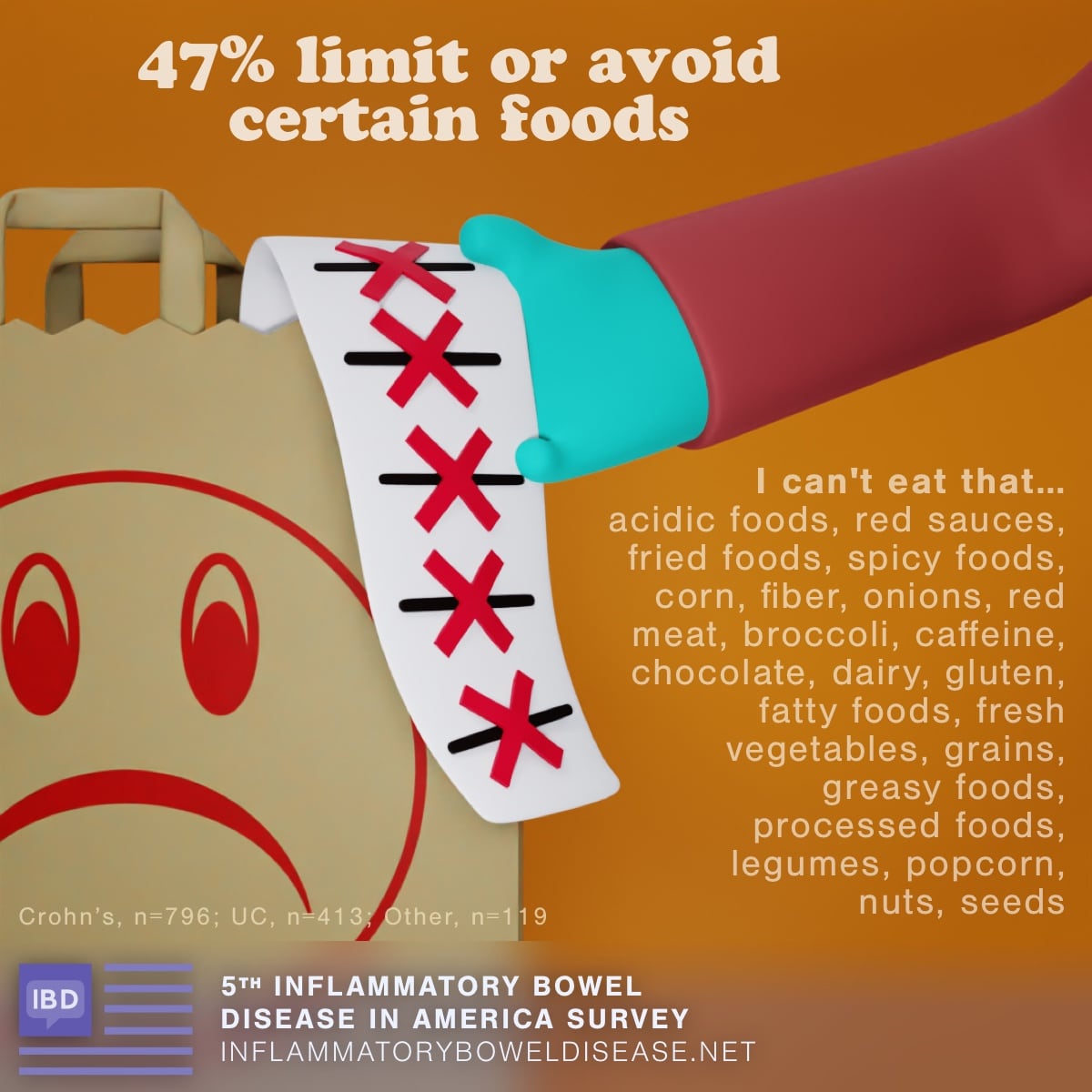 Crohn's and UC surgeries
Beyond medicine and dietary changes, some people with IBD need surgery. Of those who took the survey, 45 percent have had a surgical procedure to treat their IBD or its complications A bowel resection was the most common surgery for both Crohn's and UC.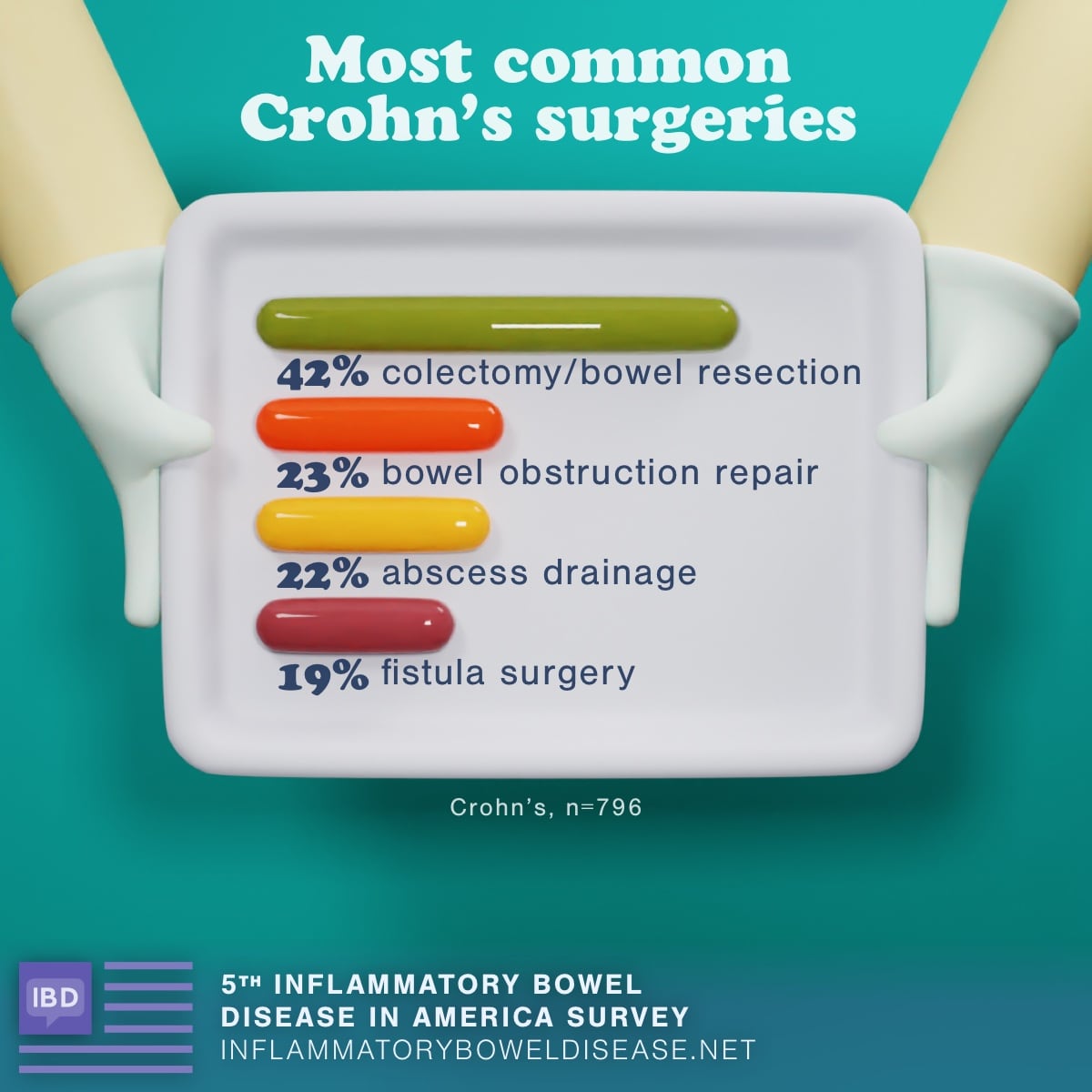 Results also showed that respondents with Crohn's were more likely to have had surgery than those with UC. Plus, those who have ever been in remission were more likely to have had surgery compared to those who have never been in remission.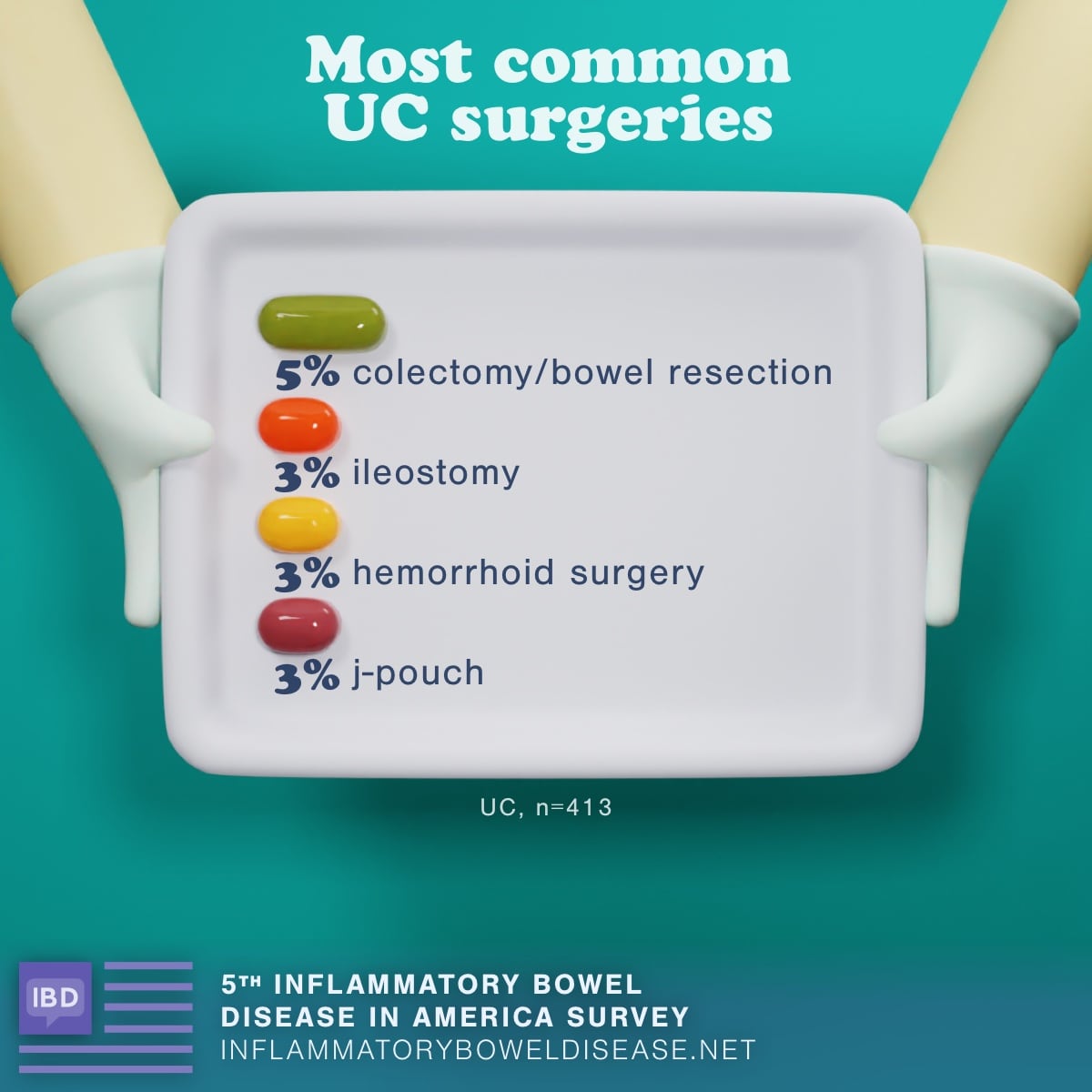 Complementary treatments for IBD
In addition to all of these treatments, those surveyed reported a wide range of lifestyle changes and alternative therapies they use to ease symptoms.
Limiting stress is key for many, with 30 percent saying they practice mindfulness. A majority say they increase their hydration to manage their IBD (63 percent), while 29 percent said they avoid stimulants like caffeine and tobacco. Certain vitamins and supplements are also popular.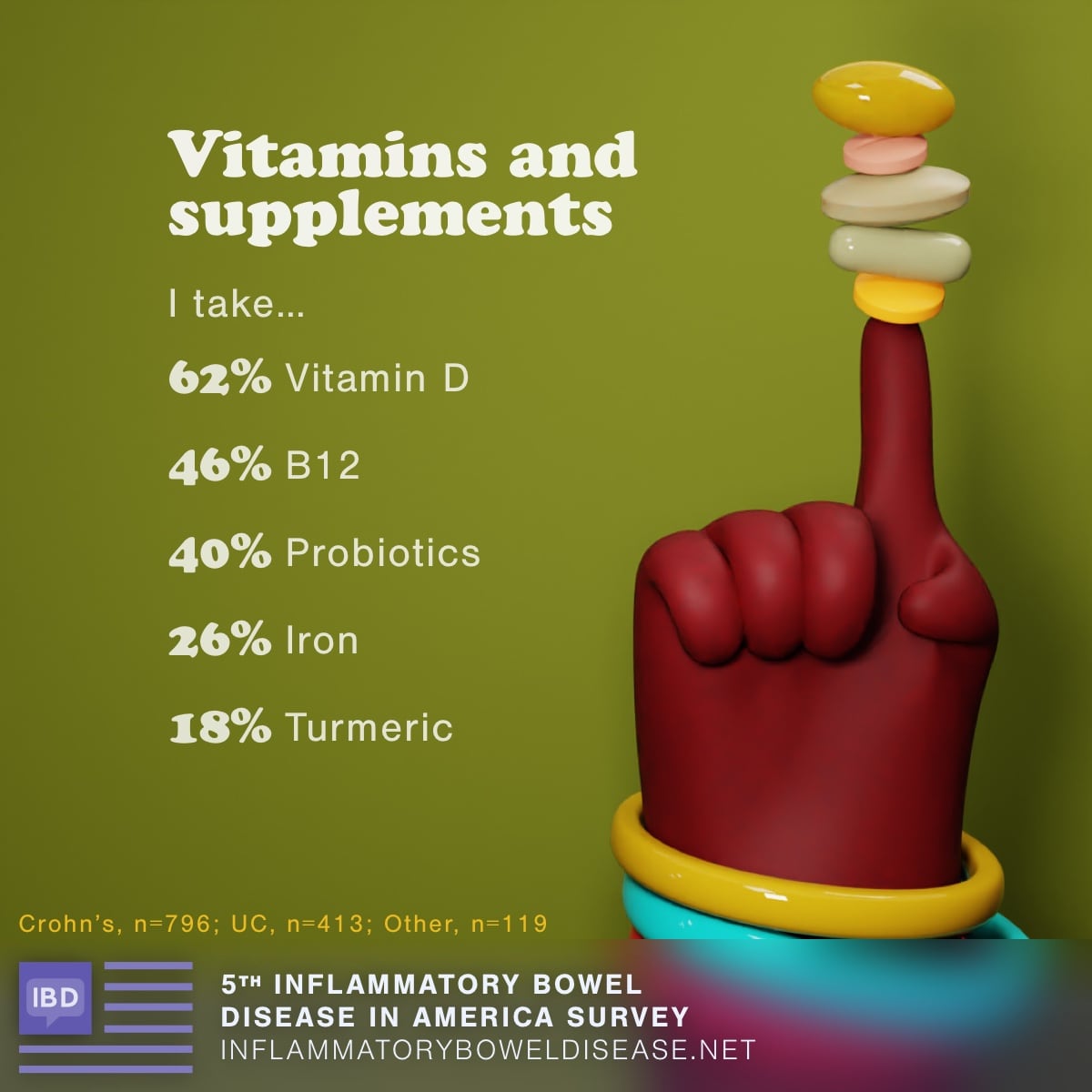 The ultimate treatment goal: remission
So, reaching remission… Is it possible?
Nearly 1 out of 4 respondents* cite their IBD symptoms to be under control on their current treatment plan.  People with UC felt they had greater control (29 percent) than their Crohn's counterparts (23 percent).
However, nearly 50 percent experience IBD symptoms more than 15 days a month. So while treatment paths may look quite different from person to person, the frequent nature of their symptoms are 1 thing they have in common.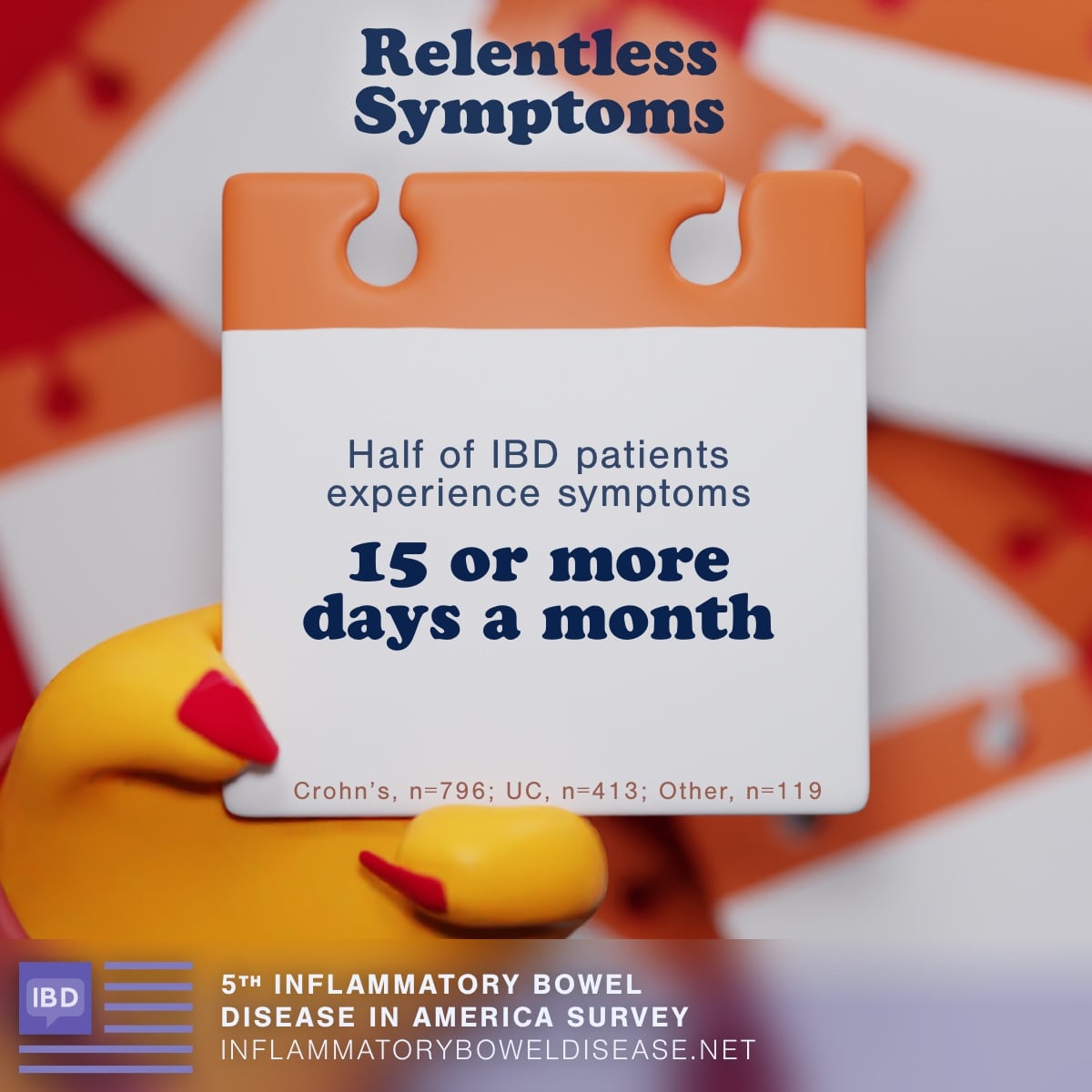 The IBD In America 2021 survey was conducted online from May through July 2021. Of the 1,328 people who completed the survey 796 were people who have been diagnosed with Crohn's disease or Crohn's colitis, 413 have been diagnosed with ulcerative colitis, and 119 have been diagnosed with another type of IBD.
This article represents the opinions, thoughts, and experiences of the author; none of this content has been paid for by any advertiser. The InflammatoryBowelDisease.net team does not recommend or endorse any products or treatments discussed herein. Learn more about how we maintain editorial integrity
here
.
Community Poll
What has been the most helpful for managing IBD symptoms?