Part 1: Agony, Crohn's and Wedding Dresses – Oh My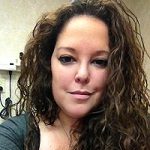 By Jaime H

·

August 20, 2018
They say searching for your wedding dress should be one of the happiest and most exciting moments of your life. I don't know who this "They" everyone quotes is exactly, but I beg to differ. My first experience shopping for a wedding dress was anything but pleasant. Thanks, Crohn's!
IBD and bridal shopping was harder than anticipated
For about two weeks, I studied the bridal shop's website. One dress in particular just spoke to me. I called to make an appointment at the shop closest to my home. I inquired about the dress I was interested in and was informed that they didn't have it at that shop. [Bummer.] The girl on the phone cheerfully told me to call the store 45 minutes north of her store to see, as it showed in the computer system they had a few in the sizes I was looking to try on. [Cool.]
I created two appointments. One at her store for a true try-on session, and one at the north store to see if I liked that dress and get an idea about dress cuts. Consider the first appointment an audition of sorts.
I called the northern store. Another cheerful voice answered. I explained why I was calling and began to set up the appointment. I asked the cheerful voice on the other side of the phone if it was possible to have a dressing room closer to the bathroom because I have Crohn's. She was familiar. [Relief] "Not a problem," she replied, "People ask for this even without mentioning a condition."
"How interesting," I thought.
Appointment #1 – the beginning
I purposefully made the appointment for a day that one of my friends, who's also a bridesmaid, didn't have to work, so I had a buddy to keep me calm. She gets my body image issues, my anxieties, and most of all my accompanying conditions like sudden bouts of nausea and arthritis. Coincidentally, her husband has Crohn's disease, too.
I have been on and off of steroids since 2012 and have a thyroid condition. Together, they have wrecked my self-confidence. Anyway, at that time of the appointment, I had been off steroids for close to eight months. However, I was still struggling to look in the mirror. [Even while writing this piece some 7-months later, I still do not feel like my former self.]
I got ready for appointment #1 and packed a pair of heels and the most important items — undergarments that tuck, suck, and lift. [Breathing on your wedding day is overrated.]
Upon check-in, we met the assigned bridal clerk. She explained how she had been with the company for over a decade and it was her first day back from vacation. Perhaps she never returned from vacation?
Think of dress fits that make you most comfortable
I was asked about the kind of dress cut was I most used to wearing for formal events and what I was interested in trying. We also discussed my needs regarding Crohn's and my fear of having a too-fitted dress that I couldn't shimmy up fast enough.
I went on to explain that I did not want an assistant in the restroom with me should the need to go arise. This is honestly a fear I have grappled with since dress shopping for high school junior year's homecoming and senior year's prom. Junior year, I wore fitted. By senior year, I had wised up and went ball gown. But the self-image woes plaguing me said, "Do not turn into a cupcake." Twenty years had passed but the feelings remain. My next question to the clerk was if we had a room close to the restroom. It was somewhat close, but there were fitting rooms closer. Maybe they forgot to reserve one for me? Was this a sign? I started getting anxious.
It's like what you see on TV, until it's not
We finished chatting with the bridal clerk and dispersed to pull dresses of our own choosing. She went to pull some, as well. The dress I specifically came to try on was mysteriously missing from the back. A little while later, she appeared with the dress, but it was not in my size. It was two-sizes-too-small. This felt like a second sign. My anxiety increased further, but I pushed on.
If you're obsessed with reality TV, like I am, and have watched a bridal show or three, then you may know where I'm going with this. These bridal shops on TV have bands and clips that allow you to try on a smaller dress without having to zip it up. It usually looks true-to-size, and life for the bride is grand. That so did not happen in my situation! It looked horrible. I couldn't reconcile this in my mind because usually, this cut of dress works for my frame. [Ah, TV magic, how you've fooled me for the last time!]
Feeling crushed, I was ready to run away. I tried on some other dresses, but by then, I was just going through the motions and had mentally checked out. My friend knew it but tried to cheer me on. I tried on a ridiculous dress that we both knew wouldn't fit, and we had our Lucy and Ethel moment. The laughter helped. Later, I saw another woman try the same dress on and she couldn't sit down. I asked if she was comfortable. She gasped, "Oh-my-god-no!"
Appointment #1 – the last straw
There was a dress that had caught my eye on a mannequin. I had mentioned this to my friend and the clerk. The clerk came back with two more dresses near where it was located, but not the dress I asked to try on. I mentioned it to her again. Again, she returned with a different dress. Again, this was another sign. By then, I was done.
So done.
I try to find the positive in any bad situation. Even though I was anxious and my insides were noisy and hurt, at least I didn't need to pull a Bridesmaids "It's happening" moment while still wearing a sample dress.
What did not impress me was that my bridal clerk was not on our team. She was there, but she wasn't. In the beginning, she acted like she heard me, but that evaporated. To my fault, I did not speak up for myself, I withdrew and it really left me with a sour taste in my mouth toward doing this all over again a few days later at the second appointment.
It's important to stress that this first appointment served it's purpose. I was able to try on a few different shapes with different types of backs (e.g., zippers, buttons, and corsets). I got an idea of what I wanted to actually try on later away from this store and this clerk. The appointment wasn't a total loss, but I did leave with a decent case of self-loathing and general dread toward the entire wedding process. Eloping had never sounded better.
Stay Tuned for Part 2: Agony, Crohn's and Wedding Dresses – Oh My
This article represents the opinions, thoughts, and experiences of the author; none of this content has been paid for by any advertiser. The InflammatoryBowelDisease.net team does not recommend or endorse any products or treatments discussed herein. Learn more about how we maintain editorial integrity here.