Enter our GUT BUDDY Giveaway! (Giveaway CLOSED)
Last updated: January 2019
This giveaway has ended.
How many times have you heard "But, You look fine", "You don't look sick!"? There could be nothing further from the truth for someone living with a chronic invisible illness.
Coping with an invisible illness can be frustrating, especially when those closest to you don't see or understand what you're going through. An invisible illness is not easily seen or understood by those who are not living with it. Those without the condition may not comprehend what you're feeling and may not see when you need support. These times can be isolating and cause feelings of distress.
Invisible Illness Awareness Week
Raising awareness of invisible illnesses is so important. In doing so, we can begin to help others grasp even just a small part of what we deal with on a daily basis and hopefully bring them to a place of understanding and empathy. Join us at inflammatoryboweldisease.net, as we raise awareness for Invisible Illness Awareness Week, October 15, 2018 - October 20th, 2018.
Share your story, ask questions, share with a friend or loved one, help make this disease VISIBLE by advocating and spreading awareness.
Enter to Win!
Enter to win our Gut Buddy Giveaway, supporting Invisible Illness Awareness Week! In honor of all of our fantastic community members (that's you!), we're making the invisible visible by giving away one adorable plush GUT BUDDY. Your new Gut Buddy visibly STANDS OUT. Use this plush for comic relief, as a home cuddle buddy, a great hospital pal, or a pretty punching bag- you choose! In addition, you'll also receive our one of a kind Inflammatory Bowel Disease Angry Gut Sticker!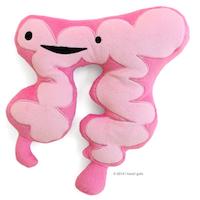 Scroll down to the email submission box, enter your email address, and click or tap the Subscribe button. It's that easy!
This Giveaway starts on October 15, 2018 07:00:00 AM ET and ends on October 20, 2018 11:59:59 PM ET. One winner will be notified via email. The winner has 48 hours to claim their prize before an alternate winner is selected. For more information, please read our Terms and Conditions. Good luck!
This article represents the opinions, thoughts, and experiences of the author; none of this content has been paid for by any advertiser. The InflammatoryBowelDisease.net team does not recommend or endorse any products or treatments discussed herein. Learn more about how we maintain editorial integrity
here
.
Community Poll
Will you take our In America survey to help others understand the true impact of Crohn's and UC?