IBD Interview: Lights Camera Crohns!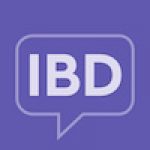 By Editorial Team

·

May 4, 2017
In honor of IBD Awareness Month, we'll be interviewing members of the online IBD community, sharing their stories, and helping to raise awareness and understanding about Crohn's disease and ulcerative colitis. Today's interview is with Natalie Hayden who blogs at www.lightscameracrohns.com.
What is your name and your diagnosis? How long have you been dealing with IBD?
My name is Natalie (Sparacio) Hayden. I started experiencing symptoms in May 2005 and I was diagnosed with Crohn's Disease on July 23, 2005. I graduated from Marquette University in May… and was diagnosed the summer after college–at age 21. I am now 33.
What do you wish you knew when you were diagnosed with IBD?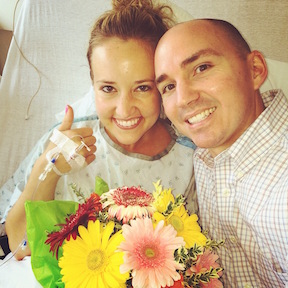 When I was diagnosed I wish I knew that Crohn's disease was not my identity and that despite the worry, pain and struggles associated with it–that in time I would experience a unique perspective about life and a strength within myself that I never knew was there. Prior to my diagnosis, it was easy to take a "feel good" day and my health for granted. Now, I appreciate those moments so much more and have an ability to empathize with those experiencing hardships and health complications with a different type of understanding. Receiving a chronic illness diagnosis at age 21 was overwhelming and daunting. With each year that passes and every flare up and setback you encounter, you gain a a thicker skin. You learn to cope, you figure out what your triggers are and become in-tune with your body. It's a journey that takes time and patience. It's important not to beat yourself up for the illness, it's not your fault, it's ok to have days where you are down in the dumps–but attitude is everything. I always tell myself while many may have it better…many more have it worse.

What do you wish others knew about IBD?
I wish that people knew that IBD is a daily battle — even when you're in remission. A day… sometimes even an hour… doesn't pass that you don't have an inner dialogue — whether it's wondering if the meal you're eating is going to leave you in pain or if your stressful day is going to leave you holed up in a bathroom. There is oftentimes a lack of understanding because many don't know what Crohn's disease is. Since it's an "invisible" illness it can be difficult for people to truly grasp the pain and the worry patients experience because we oftentimes look healthy on the outside. Crohn's isn't just about going to the bathroom a lot. It's a disease that impact people physically, mentally and emotionally. Everyone's disease process is different–there isn't one diet, one medication, or one treatment plan that universally heals or helps.
Why did you get involved in the online IBD community? How has the community changed your life?
The first nine years I battled Crohn's, I was very hush hush about my disease. While working as a television news anchor and reporter in Minnesota, Wisconsin and Illinois I didn't want viewers to know my secret because I didn't want it to be my identity. Once I left the television industry in November 2014, I decided it was time to share my story in hopes of inspiring and helping others. I quickly learned how cathartic and helpful it is to be vocal. I chose to be open and serve as a voice for those who suffer in silence. I wish I would have been open about my battle from the start, as having support from friends, family and strangers online has been incredibly uplifting and beneficial. It's a win-win… while I help others, they help me, too. Whether I'm in the hospital or responding to questions from fellow Crohnies about taking Humira or what it's like to be pregnant with Crohn's… it gives me peace of mind to know my words can provide comfort to others. The only people who truly "get" what it's like to live with IBD are the people who live with it every day. Support networks are huge — and people can empathize, but there's something extra special about being able to connect with someone who knows what a bowel obstruction feels like or who has gone through the loading dose of Humira and can fathom the pain, worry and concerns that come along with it.
What advice do you have for the newly diagnosed/those who are struggling?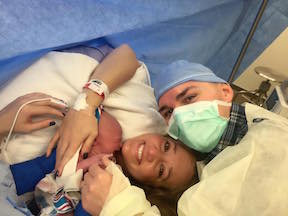 Take it a day at a time and know that in time you will be in tune with your body and the signals it gives you.While the disease will be a big part of your life, it doesn't need to be everything you dwell and focus on. It's not ideal, but I truly believe God gives his toughest lessons to his greatest teachers. There will be difficult days, but there will also be amazing ones. Just because you have Crohn's doesn't mean you can't experience all that life has to offer. I was able to meet an amazing man who later became my husband and just gave birth to a healthy baby boy. Surround yourself with those who support you and lift you up. Distance yourself from those who make you feel guilty for your condition and seem to disappear when the going gets tough. Be an advocate for the cause and think about how your story and life can bring hope to those around you. I started a blog in July 2016–writing about life with Crohn's has provided me with an outlet to share my story and educate others. You are not alone in your struggles, lean on your support network and keep your head held high. It's not easy, but with each flare up you overcome, each procedure and surgery you endure and each side effect and medication you take–you're gaining an inner strength that becomes somewhat of a superpower. You will be able to connect with others on a whole different level, no matter what health issue or hardship they are facing. Trust your gut–even though it's causing you so much pain. If you're not comfortable with a test or a medication, speak up. No one is a better advocate for yourself than you are. My favorite saying when the going gets tough…"Keep Swimming."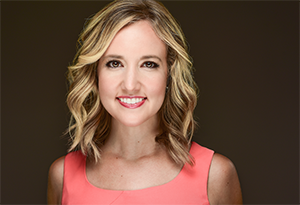 Natalie (Sparacio) Hayden, 33, is a former TV news anchor living in St. Louis. Her mission in life is to be an advocate for those battling inflammatory bowel disease and to show that a chronic illness doesn't have to dull your sparkle. Natalie was diagnosed with Crohn's disease in July 2005. After several hospitalizations, countless medications and flare ups she underwent her first surgery in August 2015. Natalie and her husband Bobby welcomed their first born, Reid, on March 29, 2017.
You can follow Natalie on her blog (www.lightscameracrohns.com) or on social media (Twitter, Facebook, Instagram).