Interview: #OstomyBomb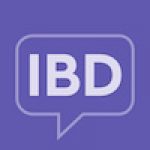 By Editorial Team

·

May 21, 2018
In honor of IBD Awareness Month, we'll be interviewing members of the online IBD community, sharing their stories, and helping to raise awareness and understanding about Crohn's disease and ulcerative colitis. Today's interview is with Jessica Mijnssen who created the hashtag mission #Ostomybomb.
What is your name and your diagnosis? How long have you been dealing with IBD?
My name is Jessica Mijnssen and I have Crohn's disease (or Morbus Crohn as it's called here in Zürich, Switzerland, where I live). My first IBD symptoms appeared my sophomore year of high school in the autumn of 1996.
What do you wish you knew when you were diagnosed with IBD?
I wish that I had had more of a community. I was so hungry for a community and felt so alone and confused in my diagnosis. A doctor betrayed my nurse's confidence and told me that she had a permanent ostomy. When I was having a hard time with hospital bags after a colectomy in spring 1997, this nurse brought me some from home and told me that it wasn't so bad having a bag, but there was no further conversation with any other ostomate or IBD patient until I was in college and found some groups on the internet. I wish that someone told me then that serotonin levels can be low in folks with ill or missing guts. I wish that someone told me then that I didn't need to hurry up and live all of my life super quickly because I didn't know how long I had. I wish that people hadn't just said "stress isn't good for your Crohn's" but had given me doable and practical methods of how to reduce stress.
What advice do you have for the newly diagnosed/those who are struggling?
I get the opportunity now to visit new ostomates in hospital to share some tools that I rely on. Thanks to my openness and the internet, friends and loved ones who have friends or loved ones who are being diagnosed put us in touch. I find myself echoing that nurse of mine and saying "this sucks, for sure, but it isn't all you are." I tend to recommend therapy or counseling because not trusting my body led to me feeling like I was at war with my body for a long time. I think that if I had been caring for my body as myself, I may have made some more healthful decisions.
I also try to help them figure out how to get healthcare if they aren't insured. I struggled with maintaining health without a regular doctor because I couldn't get insured when I was living in the US.
How did #ostomybomb get started?
Eight weeks after my proctocolectomy, I was walking to a celebratory dinner with my husband and in-laws and passed one of my favorite statues. I remembered telling my husband how I loved her because we had similar body-types and I found her beautiful years before. He'd said that he thought that she was chubbier than me and I socked him in the arm. As I was seeing her beauty again (and was 20 lbs lighter while adjusting to my stoma) and thought "I bet she'd still be beautiful with an ostomy" and fished my emergency bag out of my purse, stuck it on my shirt so that the lint would prevent the adhesive from effecting the statue's surface, and stuck it on her. She was just as beautiful and I was so moved. I took a photo and shared it on my Facebook and Instagram, with the caption "I've never successfully yarn bombed a thing. But I just ostomy-bombed my favourite statue in ZH #ostomybomb." I had a number of bags that no longer fit me once I found my preferred bag of choice and began placing them on other of the myriad of gorgeous nude statues in my city. I'd write "Beauty with an ostomy" or the website https://www.ostogroup.org/our-mission, who helps ostomates in need get supplies.
What do you want people to take away from your hashtag and mission? Why is it important and what is your ultimate goal?
I really love the positive responses that I've gotten from other ostomates (some have even bombed on their own!) as well as friends and family who hadn't known that I had a bag. But my favorite is when I've stuck on a bag and stepped back to take a photo and a passerby asks me about it. I think that a lot of people have the wrong idea that bags are only for the very old or very infirmed only. Seeing our modern bags on fit and sexy bodies surprises them and I'm grateful for the dialogue. But whenever I do it, I picture 16 year-old me, who was so sure that she was a monster that no one would want to touch. I want young people's first exposure to an ostomy to be one of beauty and in the open.
So far there's been a Facebook group, which was started by someone else with my photos and there have been a number of people who have shared their ostomybomb photos on social media. I attended the Woodhull Sexual Freedom Conference last summer to present the workshop "Dr Normallove or How I Learned to Stop Worrying and Love the Ostomybomb." I used the awareness raising ostomybombing as an opener for sex with an ostomy and or proctocolectomy. My hope is to remove the taboo of ostomies. In addition to open sharing on social media, I've also made up greeting cards with my photos on them and gifted them to family members along with donations to IBD and ostomy charities for holidays.
Photo 1: One of my favorites from a park here in Zürich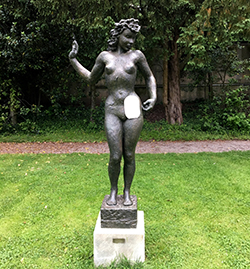 Photo 2: My first ostomybomb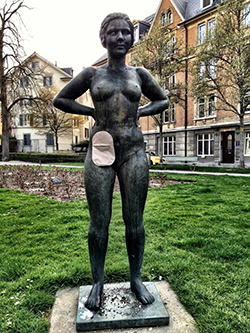 Photo 3: A statue at a large athletic track here in Zürich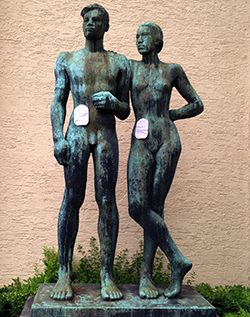 Photo 4: Roger Williams Park Providence, RI (required a lot of climbing and the use of a long stick)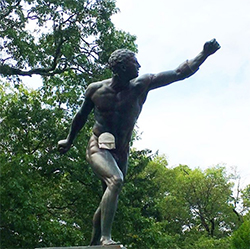 Photo 5: David statue in Zürich. I took off my shoes, rolled up my trousers and climbed up to get this one too, at a place where buses park and drop off large tour groups. I attracted a bit of attention with this one.