I'm Pregnant with a J-Pouch! (week 5)
I never thought I'd be a mother. Not because I didn't think I could. My mom has Crohn's disease and she had 5 babies. My aunt had 3 kids and she also has Crohn's. I also have several other friends with busted guts who have had children. I knew it was possible to have children with IBD, but I've never had that "maternal pull" or "baby fever." Having a few telltale symptoms of pregnancy, I decided to take a test. I hyperventilated when I saw the two pink lines appear. I was struck with panic.
Pregnant!? I'm pregnant!?
I was afraid when I found out I was pregnant
"Mama… I'm 4 weeks pregnant!" Naturally, as most mom's are, she was thrilled. I cried.
"Mama… I'm so scared!"
"It's going to be ok." She said gently and confidently.
"I'm so tired of doctors. I'm not ready for more."
"I understand, but you will get through this. It's going to be ok."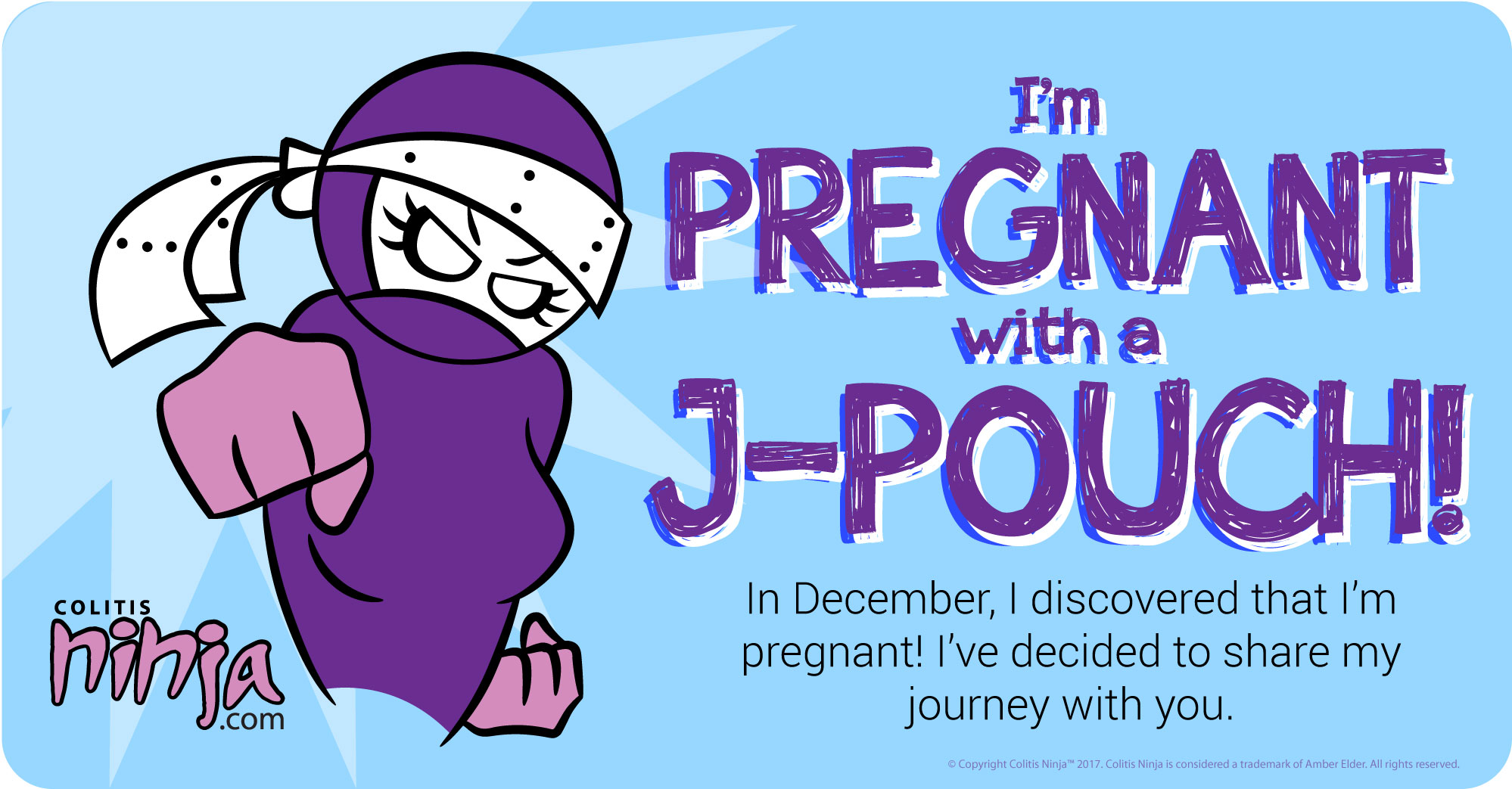 I know several other women who've given birth with IBD
After freaking out and crying some more, I pulled myself together. It would be ok. Because I know several other women who've given birth with IBD and missing guts. I knew that I could contact them any time and voice my frustrations or concerns. I knew they'd be there to give me advice if I asked. Now was not the time for that, however. Now was the time for me to figure out how to tell my husband he was going to be a daddy. I ran to the nearest craft store and grabbed a few items to create a t-shirt and a Christmas ornament.
I was ready to give him the news when he arrived home from work. Like me, he was shocked.
"Are you sure?!" He asked. I nodded my head.
When I made my public announcement two days later to my friends and blog readers, I was surrounded by congratulations, cheers, encouragement and excitement. While it did give me some comfort, I was still afraid. Especially when a few family members stated their concerns… "but your health!" And then a powerful realization hit me.
Since having surgery to get a j-pouch, I've been doing great! I've been healthier than when my ulcerative colitis ridden colon ravaged my body. I still have days where my j-pouch decides to be finicky, but overall, I'm doing much better.
Putting the worry behind me
Because ulcerative colitis is a disease. Pregnancy, on the other hand, is a natural process that brings with it feelings of joy that only a baby can. And at the end of 9 months, I will have something to share my love with.
With the news of my pregnancy, I know there will be several other IBD patients (particularly the ones with missing guts and j-pouches) who may be interested in my journey. Therefore, I have decided to document my journey and share it with all of you. And while everyone's IBD is different, as I have stated several times, there are a lot of women out there who've had babies despite their busted guts. If they can do it, so can I. I hope that as I share my journey, you will find hope and encouragement. Thank you for your support.
This article represents the opinions, thoughts, and experiences of the author; none of this content has been paid for by any advertiser. The InflammatoryBowelDisease.net team does not recommend or endorse any products or treatments discussed herein. Learn more about how we maintain editorial integrity
here
.
Community Poll
Will you take our In America survey to help others understand the true impact of Crohn's and UC?