How My Evil Colon Tried to Ruin My Marriage Proposal (Part Two)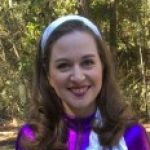 By Colitis Ninja

·

July 19, 2016
Find part 1 here.
…He ran into my room looking like a child who'd just found a chest full of candy.
He was so excited. This was a big deal, but IBD was kicking my tail and I really didn't feel up for an adventure. "I really feel awful." I confessed. I also felt guilty. This disease was completely ruining our getaway – not to mention my birthday. The smile on his face fell.
The anxiety set in for me as well. If I was going to be sick all the time, he would surely leave me. I was in bed for the rest of the day moping and napping. The next day I woke up still feeling pretty miserable. David's spirits fell, but he was determined to follow the clues that his grandmother had left.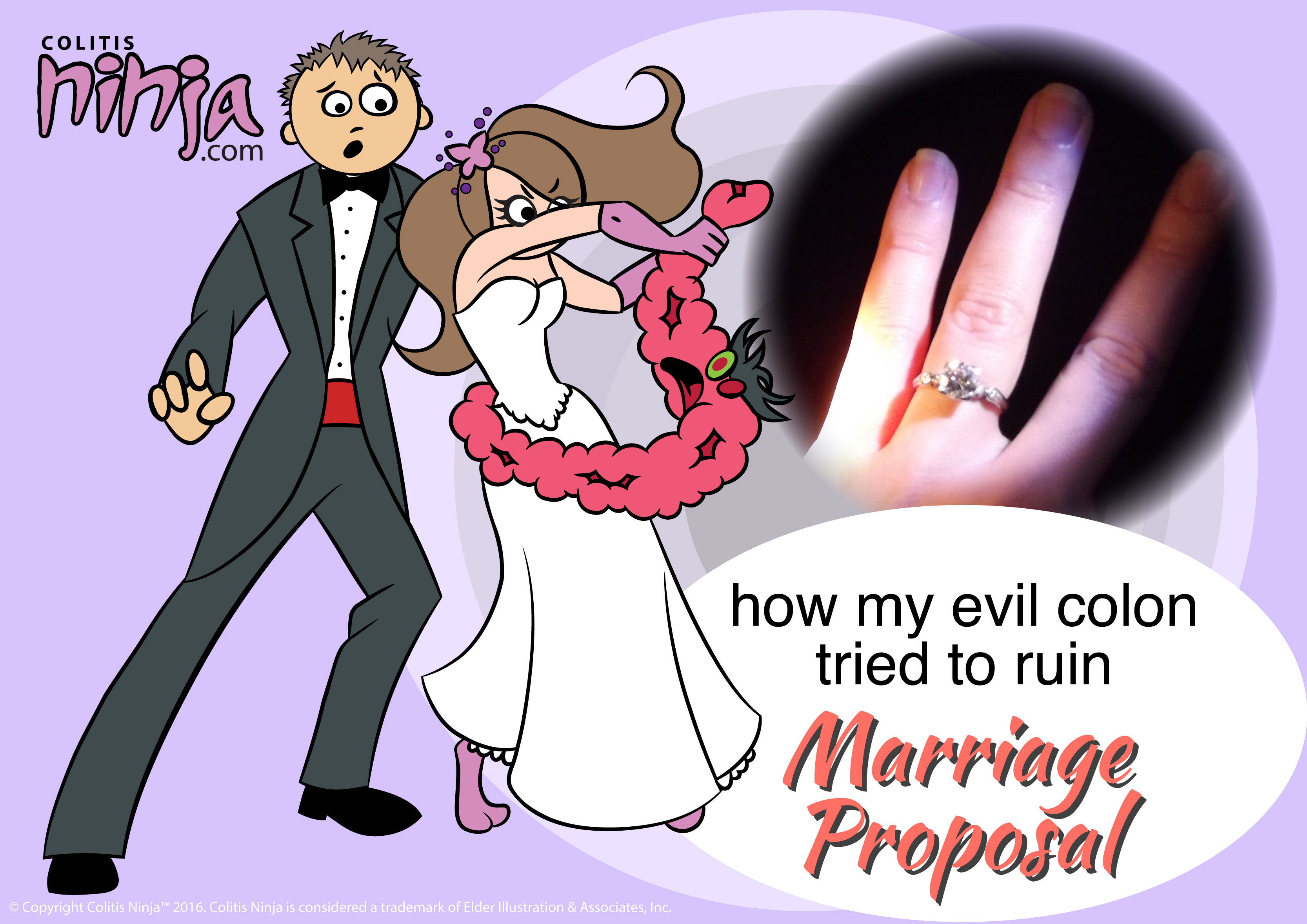 "I just can't figure out these clues!" He said. His search continued that morning as he busied himself by searching around the house. He ran into my room smiling ear to ear when he found yet another clue. "Sweetie, look! Another one!"
Sure enough, he was holding another old sheet of paper with writing in purple crayon. He was so excited. How could I disappoint him? I felt miserable, but this was clearly important to him so I got up and walked over to where he was.
"Alright, baby… I feel miserable… but I'm not going to let IBD ruin my weekend… even if that means taking frequent breaks and having to rest in between clues. Let's do this!"
David hugged me tightly. "Ok, here's the next clue! Can you figure it out?"
I read the clue:
I see myself
Myself I see and in
myself reflections be.
I looked at the nearby mirror. There was a hole where the wood was breaking free of the old glass mirror. In it, there was another clue. I got excited. I was going to be a part of this great adventure that David had been allegedly dreaming of since he was a young boy. There were no guarantees that we would find every clue… after all, this was years and years ago and by now the clues and the treasure could have very well disappeared.
David even suggested that someone could have planted these clues, saying, "We were all so desperate to find this so-called treasure that it could very well be that my uncle planted these clues as a joke! We just don't know."
"Either way," I replied, "it's a fun adventure, and I'm glad to be a part of it with you."
We searched the house top to bottom, following each clue to wherever they would take us. We went under the house where we found another clue in an old chest with all kinds of old items inside that were deteriorating from age. All the while, I was still feeling tired and weak, but also excited.
At one point we got stuck with the clues. It read:
Ring a ding ding
your closer to the
shiny thing
There was an old bell on the porch, but no clues. I suggested David call his father who knew the cabin better than anyone. He hesitated, but decided to go for it.
"Oh, son… that's just ridiculous. You're not going to find anything…" He said with skepticism.
"Come on, Dad, haven't you got any idea?"
He thought for a moment and then told us of the bell in what used to be a dining room that they would ring when it was time for a meal. So David and I continued our search. We found another clue near that bell which took us into the attic. From there we were taken outside where we nearly lost the trail until David suggested we check underneath the cinderblocks.
The cinderblocks made me nervous due to the fact that my grandmother was once bitten by a copperhead that was coiled up inside some that she was moving. Once we moved the blocks, there was nothing there, but David decided to get out a shovel and start digging.
Suddenly we uncovered an old sack with something inside it.
"This is it, Amber! This is it!" David exclaimed.
"This is really special, baby!" I said with excitement.
"Where should we open it?"
"How about the point?"
The point was a place on the mountain with a gazebo that overlooked the valley. It was very scenic. We had to open it somewhere special. After all, this was the treasure David had searched for all his life! We put the bag in the backseat of the car. I was freaking out. I half expected bugs or snakes to crawl out of it.
It took us about five minutes to drive out to the point. We decided to set up David's new camera to record the great reveal. Upon reviewing the video, you could tell I was nervous as we opened the bag. I was convinced bugs were going to come flying out of it in our faces. Not only that, I was not dressed to be on camera. I still felt terrible – there was no reason for making myself up.
We opened the bag and inside it was a wooden box. David opened the wooden box and revealed a smaller box. He had gotten down on his knees at this point, but I was too worried about the possibility of bugs and too curious to notice. He was taking his precious time opening it and all I wanted to know was what was in the box.
"Honey," he began (remember, his grandma's name was Honey), "I've been looking for you all my life."
I laughed to myself. You're being a little bit overdramatic, don't ya think?
Then he said, "I want to ask you to be my wife." He opened the box revealing his grandmother's ring that she'd given him.
I looked at him and then back at the ring and then back at him again as I started hyperventilating. Did he just say what I think he did?
"Well," David said, "What do you say?"
"Y-y-yes!" I said bursting into tears.
People ask me, "Amber, how could you not know what he was up to?"
How could I? His parents backed up the story. It was well-crafted and thought out.
We were married two months later. During our marriage, ulcerative colitis has ruined many celebrations, holidays and occasions. But thankfully, it didn't ruin my proposal and David married me despite my illness. Love after diagnosis is possible. And I'm living proof of that.

This article represents the opinions, thoughts, and experiences of the author; none of this content has been paid for by any advertiser. The InflammatoryBowelDisease.net team does not recommend or endorse any products or treatments discussed herein. Learn more about how we maintain editorial integrity here.