14 Years Later – A Family Room Perspective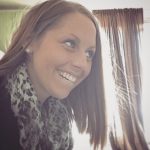 By #purpleproject

·

July 16, 2018
This room is full of emotions. This is the room that 14 yeas ago, my parents would be pulled from and told that I have sepsis, pancreatitis, and needed surgery for ruptured cysts from endometriosis, and also later told that this might be a goodbye.
Goodbye.
It's a strange notion, knowing you survived death.
I "celebrate" my diagnosis day on July 13, 3 days after a milestone birthday. Just a young girl navigating the world when suddenly shocked by Crohn's Disease.
I was so fragile, my body being kept alive by TPN (Total Parenteral Nutrition). There was a picc line placed in my left arm & through that line, nutrition was given to me through feedings to my heart.
Today is the first time I walked back into the family room. It was eerily quiet enough to hear a pin drop, but my thoughts were louder than my head could contain. What did these 14 years contain that this room could barely hold?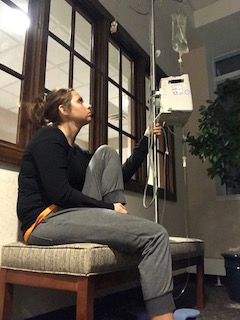 I sat for a while praying for families before me that didn't have a second lease on life like I did. I was given a second chance. Blood transfusions from strangers like you who give on a regular basis. I would not be alive if not for my donors.
This place will strangely always be called home, as I spent nearly a month in the PICU and in this week, I'm barely thriving and surviving. It's yearly that this place, a hospital, becomes my home usually for at least a week's length in spring, sometime usually in March or April… with lots of Doctor visits into May. I'm exhausted just thinking about how much energy has already been depleted before I get ready for the day.. before I even get out of bed for the day.
I'm back to dozens of pills a day. For so many years that hasn't been the case, but you see, I've collected more illnesses in the last 14 years, some that have significantly altered my course of treatment(s).
These cycles.. these "coming homes" are no stranger to a patient living with chronic illness. And it leaves a lot of time for reflection. I've gained far more than I ever thought I'd ever lost to this disease. It's not always mind over matter, humor will get me through. It's also about being real, authentic with your mental health, and overall physical journey when sharing it with the world. For so long, I left the mental health component out of what I believed proactive medicine was. I'm actively working on being more honest with myself and others about how much anxiety and mental health matters.
With 14 years comes friendships that have come and also gone. Some long-lasting, some short and sweet. Others a little bitter, we find. All in all, we come to find exactly who we need in our tribe and who we can count on, even when we can't physically put the effort into the friendship. True friends? They are there through it all. And man, do they show up.
A valuable career. Gone.
So all in all, my hopes and dreams came true. I originally declared English as my major in college, but ended up switching to Health Care Administration when I understood how important health care insurance would be for me. Yes, I realize the irony in this, but I won't get into the politics.. Though I lost one career when I turned 30, opportunity popped up in the form of being a Writer, something I've always been, always known, and always wanted to professionally do. My career came full circle.. and despite all the blood, sweat, and tears that went into how I got here, I am here.
Friendship and Advocacy
There is so much I could tell others about the friendships and educated, intelligent, and amazing people I've met along my journey with Advocacy. I capitalize Advocacy because I also consider this to be a full-time job, in addition to being a full-time Patient. The friends and advocates I've met along the way have helped me cope, they've helped me mourn, accept, and they continue to do great things with and for me on a daily basis. They are my support and they have continued to be my family in extremely hard times.
How lucky am I to say that from something so horrible to receive as a young girl, that I have gained so much more than I have lost?